Posted 23.11.2015 @ 12.37PM
Hey everyone I thought I would show you the final result of our group project:
Posted 23.11.2015 @ 12.37PM
Hey everyone I thought I would show you the final result of our group project:
Posted 04.10.2015 @ 12.28AM
**Backstory:** I'm doing a group project at Tafe which involves a simple silo with a dome roof and a conveyor leading out of a square hole in the side. I modelled these myself in 3ds Max 2014.
The total length will be approx 1min - 1min 30sec.
In total there are 5 animated models. These have been sourced from the internet. One of my group members had to rig Robot 1.
Robot 1 - Main character
Robot 2 - Only need to animate his head and 1 arm
Robot 3 - This robot will join Robot 1 approximately half way
Robot 4 - As above
Disassembley Robot - The Large one in the picture; his animation is simply walking back and forth between the pile and the conveyor belt and picking up/placing down robot junk.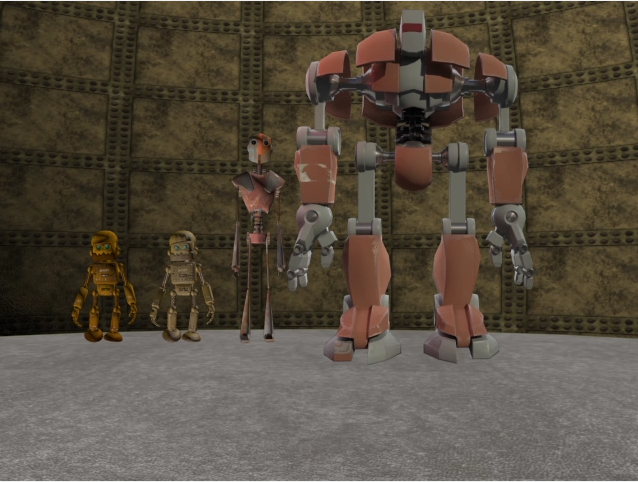 **Down to business:**
I have decided (but first want to check with all of you first) to use Mobu to do the animation because of the simple fact that that is precisely what Motionbuilder was made to do (build motion ha-ha) but also the fact that we have been learning Mobu this semester and I want to continue to challenge myself and learn as much as I can.
So I need to combine multiple motion capture files (Which I am sourcing from the internet) into 1 continuous motion stream.
I have been watching and reading tutorials and documentation for the last few hours but I simply cannot get my head around working out the most appropriate method for what I need to accomplish.
I have learned how appropriate the Story Mode can be in regards to easily looping and blending/transitioning mocap files which makes it an attractive option for me. The only downside is you can't use animation layers with Story Mode as the animation is locked inside the mocap file on the timeline.
I then learned about the ability of Mobu to separate batch mocap file imports into individual takes and combined with animation layers, this can be a very suitable option as well.
**I feel like I should stop rambling on now and ask the simple question that just came to mind:**
What are the basic factors in my project situation that I should be taking into consideration when deciding on a particular method/procedure to combine multiple mocap files onto a model.